Gregory L. Chang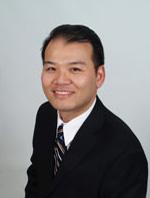 Gregory L. Chang Prof. Corp., Lawyers
616 – 220 Duncan Mill Road, Toronto
tel (416) 703.2520, ext. 288
fax (416) 352-5375
Email: gchang@changlaw.ca
Greg's personal website: www.changlaw.ca
Greg is a lawyer with the Law Society of Upper Canada (Ontario)and formerly of the Law Society of British Columbia. He attended law school at theUniversity of Victoria.
His practice areas include: insurance litigation; personal injury litigation and commercial litigation.
Greg is Litigation Counsel to a broad range of solicitors and sole practitioners in Ontario; federal and provincial corporations; leading insurers; and individual private clients.
Greg and the firm are frequently retained by other Ontario lawyers to handle their valued clients' trials and appeals.
Greg frequently blogs on issues relating to insurance and personal injury law.
Areas of Practice
Insurance Litigation
Personal Injury Litigation
Commercial Litigation
Education
University of Victoria, Faculty of Law, Victoria, British Columbia, Canada
Professional Associations and Memberships
Law Society of Upper Canada
Canadian Bar Association, Member
Association of Chinese Canadian Lawyers of Ontario (ACCLO) part of the FCCP (Federation of Chinese Canadian Professionals), Past President of Lawyer's Section, currently on Executive
Federation of Asian Canadian Lawyers, Former Board of Director
American Trial Lawyers' Association, Member
The Advocates' Society, Member
Toronto Lawyers Association, Member
National Asian Pacific American Bar Association (NAPABA), Member